¡CONTENIDO EXCLUSIVO PARA VIAJEROS SUSCRITOS!
¡ÚNETE A LA COMUNIDAD FRIKI DE
VIAJES EN EL TIEMPO!
Tan solo necesitamos tu nombre y email para que puedas ver el contenido
¿Son ciertos los rumores acerca de los viajeros en el tiempo?
Nada nos gustaría más que encontrar una historia verídica sobre algún traveller in time, pero por desgracia hay demasiados mitos respecto a éste tema.
El viajero en el tiempo llamado John Titor
En el año 2000 un usuario con ese nombre posteó supuestas "evidencias" de sus time travel en diversos foros. Con los nombres de "TimeTravel_0″ o simplemente "John Titor", uno o varios usuarios echaron a andar un rumor que se ha convertido desde entonces en una enorme leyenda urbana en la ciudad Internet.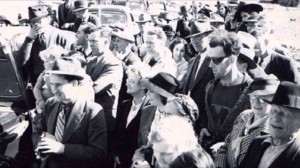 Como una mezcla de distintas películas de time travel (como Terminator y Back to The Future), el usuario afirmaba ser un soldado enviado del año 2036 al año 1975 para recobrar una vieja computadora IBM 5100 (en la imagen), la cual sería la única que podría resistir al virus del futuro, todo esto a bordo de un Chevrolet 1967 con un sistema capaz de utilizar los hoyos negros de Kerr para recorrer uno de los dos multiversos que se abren cuando uno entra en uno de tales hoyos con gravedad hipermasiva.
John Titor, en la historia, se desvía hacia el año 2000 para saludarse a sí mismo a los 3 años, lo que parecería desestimar todas las posibles paradojas del viaje en el tiempo que la ciencia ficción nos ha enseñado a respetar.
Durante cuatro meses en el 2000, John Titor respondió muchas preguntas en los foros de entusiastas del cronoturismo, describiendo eventos futuros con un giro que lo libraría de sospechas y daría sustento teórico a su historia, al menos en teoría: las realidades alternas existen, así que lo que ocurrió en el pasado de su línea temporal podría no necesariamente ocurrir en nuestro futuro.
Por desgracia, el usuario John Titor, hizo uso del borrador de una novela no publicada sobre los viajes en el tiempo, para aparentar ser un viajero del tiempo según se cree.
De todas formas, podemos ver detalladamente como funcionaba su máquina del tiempo, así como numerosa documentación al respecto de tan singular traveller in time.