Universos paralelos en la física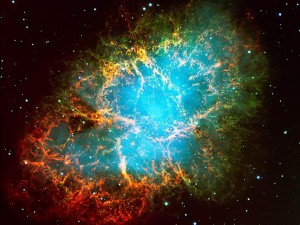 La interpretación de los mundos múltiples de Everett aparece dentro de la mecánica cuántica como una posible solución al problema de la medida en mecánica cuántica. Recientemente sin embargo, se ha propuesto que universos adyacentes al nuestro podrían dejar una huella observable en la radiación de fondo de microondas, lo cual abriría la posibilidad de probar experimentalmente esta teoría.
Multiverso es un término usado para definir los múltiples universos existentes, según las hipótesis que afirman que existen universos diferentes del nuestro propio, y los diferentes universos dentro del multiverso son a veces llamados universos paralelos.
Niveles
Las teorías científicas de los universos paralelos constituyen una jerarquía de cuatro niveles. Conforme aumenta el nivel, los distintos universos difieren más del nuestro. So, en el multiverso de Nivel I los distintos universos solo se diferencian en las condiciones iniciales mientras que en el multiverso de Nivel IV incluso las leyes físicas son distintas.
En la próxima década, mediciones más precisas de la radiación de fondo de microondas y de la distribución de la materia a gran escala corroborarán —o no— el multiverso de Nivel I ya que determinarán la topología y curvatura del espacio. A su vez, también indagarán el Nivel II poniendo a prueba la teoría de la inflación caótica eterna. En cuanto a la exploración del multiverso de Nivel III, la posible construcción en el futuro de ordenadores cuánticos puede jugar un papel crucial al respecto. Last, el éxito o fracaso de la teoría del todo —que agruparía todos los fenómenos físicos conocidos en una sola teoría— permitirá tomar o no partido por el Nivel IV.
Multiverso de Nivel I
Serían las diferentes burbujas (universos) que varían sólo en las condiciones iniciales.
Multiverso de Nivel II
En el multiverso de Nivel II las distintas burbujas (universos) varían no sólo en sus condiciones iniciales sino en aspectos tan relevantes como las dimensiones del espaciotiempo, las cualidades de las partículas elementales y los valores que toman las constantes físicas. Las diversas burbujas pueden experimentar diferentes rupturas espontáneas de la simetría, lo que se traduce en universos de propiedades dispares.
Multiverso de Nivel III
Una consecuencia interesante de un multiverso de Nivel III es cómo afecta este a la naturaleza del tiempo. Mientras que tradicionalmente se considera que el tiempo es una manera de describir los cambios, la existencia de mundos paralelos que abarcan todas las posibles configuraciones de la materia, permite redefinir el tiempo como una manera de secuenciar estos diversos universos. Los universos en sí son estáticos, siendo el cambio una mera ilusión.
Multiverso de Nivel IV
El multiverso de Nivel IV considera que todas las estructuras matemáticas también existen físicamente. En consecuencia, este nivel postula la existencia de todos los universos que pueden ser definidos por estructuras matemáticas. Residiendo fuera del espacio y del tiempo, la mayoría de ellos se encuentran vacíos de observadores. In this way, mientras en los multiversos de Nivel I, Nivel II y Nivel III las condicionales iniciales y constantes físicas varían permaneciendo invariables las leyes fundamentales, en el multiverso de Nivel IV estas últimas también cambian.
Universos paralelos en los viajes en el tiempo
La existencia de los universos paralelos en los viajes en el tiempo, simplificaría las soluciones a las posibles paradojas temporales resultantes de viajar al pasado, en una misma linea temporal, y efectuar cambios obligando a modificar de estado del futuro. De tal forma que se incluye la posibilidad de viajar horizontalmente a otros universos paralelos donde habrían otras líneas temporales. No obstante de momento todo son teorías.
Our Physics books geeks gifts online shop about time travel
We have a special category of Physics books in our geeks gifts online shop,
so you can understand in depth the nature of the Time travel.