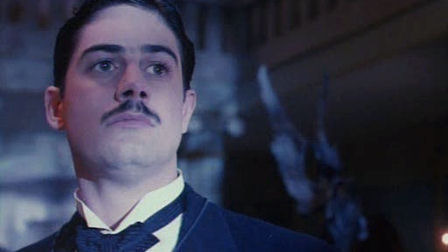 0

1 Dec

Movies about travel in time –
Parte 3/3
Continuamos y finalizamos con la lista de películas sobre viajes en el tiempo con nuestra tercera parte.
En ésta ocasión siento no poder acompañar la extensa lista con la sinopsis correspondiente a cada título, pero cómo podréis comprobar, hemos dejado la mayor parte para el final y no dispongo de suficiente tiempo, nunca mejor dicho.
El planeta de los simios (saga y serie)

Los héroes del tiempo

Primer

Las extrañas vidas de Mr. Nobody

Star Trek (series, saga)

X-Men (saga)

Time Lapse (2014)

Terminator (saga, serie)

Peggy Sue se casó

Los cronocrímenes

Minority Report

Timecop

El efecto mariposa

Dèja vu

Rescate en el tiempo (Timeline)

El experimento Filadelfia

Los Pasajeros del tiempo

Donnie darko

El final de la cuenta atrás (1980)

The girl who leapt through time

Código fuente

Millenium

La casa del lago

Destino oculto

Frequency

El atlas de las nubes (2012)

Al filo del mañana (2014)

Huida a través del tiempo (1992)

Repeaters

Next

Austin Powers, espía internacional (1997) (saga) incluyendo Goldmember (2002)

Freejack: sin identidad (1992)

Slipstream (2005)

Máxima tensión (1999) (TV Movie)

Click (2006)

Jumanji (1995)

Idiocracia (2006)

Mimzy, más allá de la imaginación (2007)

The Kid (El chico) (2000)

Lara Croft: Tomb Raider (2001)

El jinete del tiempo (1982)

Perdidos en el espacio (1998)

2001: una odisea del espacio (1968)

Men in Black 3 (2012)

Antes de amanecer (1995)

El hombre de la tierra (2007) (Man from Earth)

About Time (2013)

Harry Potter y el prisionero de Azkaban (2004)

Midnight in Paris (2011)

Contact (1997)

Héroes fuera de órbita (1999)

En algún lugar del tiempo (1980)

La ciencia del sueño (2006)

Happy Accidents (2000)

El milagro de P. Tinto (1998)

Stargate: puerta a las estrellas (1994)

Nivel 13 (1999)

El vuelo del navegante (1986)

Navigator, una odisea en el tiempo (1988)

Venus era mujer (1948)

Fetching Cody (2005)

Tomorrowland: El mundo del mañana (2015)

Sound of My Voice (2011)

Family Man (2000)

From Time to Time (2009)

Un yanqui en la corte del rey Arturo (1949)

Guardianes de la noche (2004)

Lucy (2014)

Kate and Leopold (2001)

Paycheck (2003)

Guardianes del futuro (1984) (Trancers)

El sueño de mi vida (2004)

Jumper (2008)

Esfera (1998)

I'll Follow You Down (2013)

Mundo sin fin (1956)

Run, Lola, Run

La Jette

Te amo, te amo (1968)

Repeat Performance (1947)

Un astronauta en la corte del rey Arturo (1979)

Guardianes del día (2006)
Películas sobre Viajes en el Tiempo de animación
Las aventuras de Peabody y Sherman (2014) (animación)

Descubriendo a los Robinsons (animación)

Phineas y Pherb (serie, animación) Con diversos episodios con máquinas del tiempo

Bender's Big Score

Los Simpsons. En un episodio los protagonistas ven su futuro

Futurama
Series sobre Viajes en el Tiempo
Dr. Who

Lost (serie)

Life on Mars

Continuum

12 monos
Si habéis caído aquí de forma directa podéis poneros en antecedentes visitando la segunda parte de la lista de películas sobre viajes en el tiempo.
Hasta aquí nuestra extensa lista. Si conoces otros títulos que crees que deberíamos incluir, puedes realizar tus aportaciones en forma de comentario viajero.
Agradecemos la lista a los chicos de Microsiervos una vez más.
Saludos digitales.